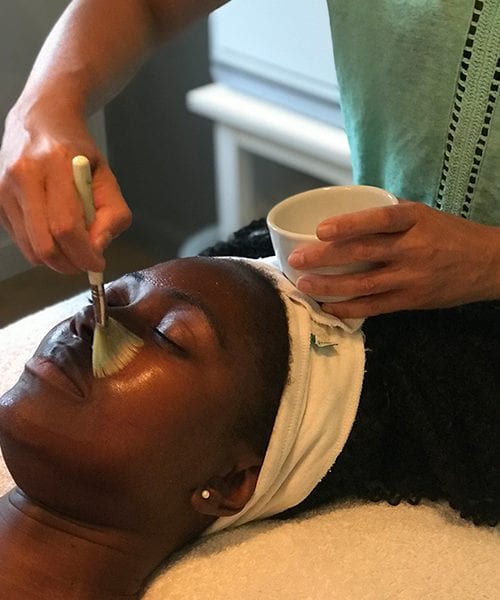 What is a skin peel?
A peel is solution/mixture applied to the face to remove dead skin cells and stimulate the growth of new cells. The aim is to improve the appearance of the skin – for example stimulating collagen production. This helps to improve hyperpigmentation, fine lines and wrinkles, texture and skin impurities. How much skin a peel removes and how deep it penetrates will depend on the type of peel used, its strength and how long it is left to activate.
What are the different levels of peels and their effects?
There are 3 types of peels – superficial, medium and deep.These have varying percentages of active ingredients and different pH levels. The percentage indicates how much of the peeling agent is contained in a peel. So a 10% glycolic acid has less glycolic acid than a 30% glycolic acid peel. It is a common misconception that the depth and strength of a peel depends on the percentage of the active peel ingredients but, in fact, it is determined by the pH level. The lower the pH, the deeper the peel.
Superficial peels
• skin cells are removed from the top layer of skin (epidermis)
• the solution is applied to the skin and left on for a few minutes
• your skin may feel tight for a couple of hours afterwards
Medium peels
• skin cells are removed from the top and middle layers of skin
• the solution is applied and left on for a few minutes
• you may feel burning or stinging when it's on your face
• your skin may go brown or red for a few days afterwards
• it can take up to 4 weeks for your skin to return to normal
Deep peels
• affect the deeper layers of skin
• anaesthetic cream may be needed to numb any pain
• the solution is applied to the face and can be left on for 30 minutes or more
• you'll have some peeling, redness and discomfort for a few days
• swelling can last up to 2 weeks, and redness can last up to 3 months
• often lightens the skin so it's not really suitable for darker skin
Which skin peels are used at Smita London?
We use many different peels targeting many skin concerns.
We use IS clinical, BDR and SkinCeuticals pharmaceutical grade peels within our facial treatments, these professional peels are essential for maintaining and restoring the skin's health and appearance and work synergistically with your home care regime for optimal results.
For a more advanced and targeted skin treatment we use the Dr Schrammek Green Peels and the AlumierMD peels. There is more downtime with these peels as the ph is much lower causing it to penetrate the deeper layers of the skin for a more targeted action. This helps to maximise the remodelling of the skin deep down and minimises any undesirable surface effects.
What are the benefits of professional peels?
There are many benefits to receiving a chemical peel. Not only do chemical peels reveal a brighter, smoother and more refined complexion, they also improve the overall look and feel of the skin in just one treatment. Other benefits of receiving a chemical peel include: • Improving the skin's colour, clarity, tone and texture • Stimulating new collagen and healthy skin cell growth, resulting in a radiant complexion • Reducing pigmentation caused by sun damage • Helping to clear up breakouts • Helping to smooth away the look of fine lines and wrinkles • Enabling home care products to be more effective because a peel can remove several layers of skin build-up and congestion, allowing products to penetrate deeper into the skin For long-term results, we recommend a series of 3-6 peels, spaced 3-5 weeks apart. The benefit of receiving a series of peels is that this treatment will be able to target the deeper layers of the epidermis, giving your skin an enhanced exfoliation. This type of deep exfoliation can stimulate cellular turnover and focus on skin concerns which are less superficial.
How do we prepare for a skin peel?
Six Weeks Prior to Peel:
Stop any products containing strong vitamin A derivatives eg. Retin-A, Retinol, Retinyl Palmatate and Tretanoic Acids
10 days Before Peel:
Avoid electrolysis, waxing, hair removal creams and laser hair removal for an entire week prior to your chemical peel.
48 Hours Before Your Peel:
Stop using any exfoliating products, products that may be drying or irritating including those containing alpha or beta hydroxy acids or benzoyl peroxide (a treatment for acne).
Extra Information
Long term skin maintenance is achieved by continued monthly professional treatments accompanied by a preventative, corrective and protective home care routine. Sun protection and using antioxidants are key to protecting the skin.