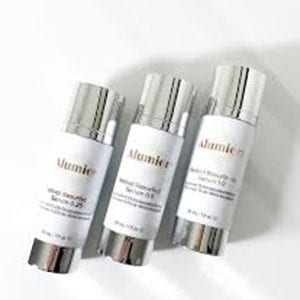 About Retinol
Retinol (also known as vitamin A) is one of the most effective anti-aging ingredients for softening the appearance of wrinkles, refining skin texture, and improving uneven skin tone. Whether you have lines & wrinkles, loss of firmness, blocked pores, or an uneven skin tone, retinol can make all the difference to your skin. Regardless of your age or skin type, retinol is the most effective product to SAVE your skin!
What is Retinol?
Retinol is another name for vitamin A. There are many derivatives of vitamin A such as Retinyl Acetate, Retinyl Palmitate, Retinoic Acid (prescription product) and many more. But retinol is the name for the pure form, Vitamin A has a fascinating impact on skin's surface because it can help restore a more youthful look and feel.
Skin is constantly being damaged by the harsh environment, causing a lot of skin imperfections, retinol steps in and seems to intuitively know what the skin needs to combat these skin issues.
How Retinol Functions in Skin
Once retinol has been applied to skin, it starts working on skin abnormalities and it works in synergy with other ingredients. When you start using a product containing an appropriate amount of retinol for your skin type (something I will advise you on), you will start to notice some changes in the skin. The skin may feel more sensitive and you may notice some areas of dryness. This is because the vitamin A is gently pushing dead layers to loosen and eventually slough off. After a few weeks you will love what starts happening to your skin because of the marked improvements that come from using this ingredient. The reduced appearance of fine lines and wrinkles, improved elasticity, and a more even skin tone are just some of the benefits you'll reap. It is important, though, to support your use of retinol with other products that help increase its effectiveness. This is something we will advise when you are in the clinic and we have performed a consultation.
Using a broad-spectrum sunscreen is always critical. Even the most effective, research-proven anti-aging ingredients like retinol won't work as you want them to if you're not diligent about daily sun protection. Retinol is only used at night and a sunscreen MUST be used in the day to protect your skin. Whilst using retinol, your skin is vulnerable as the skin is being exfoliated, so it needs to be completely protected.

It is also important to remember that even though vitamin A is a superstar ingredient for the skin, one special ingredient is NEVER enough to take the best possible car of the skin. Again, this is something we will discuss with you during the consultation period and continue to review periodically.
Which Retinol do we recommend at Smita London?
We recommend the AlumierMD retinols and I will explain why.
Firstly there are 3 retinol to choose from, 0.25% which is the weakest form, 0.5% medium level and 1% which is the strongest form of retinol.
What's brilliant about the AlumierMD retinols is that they are microencapsulated which allows for a slow release into the skin overnight, this causes minimal irritation and maximizes effectiveness. Unlike many other retinols, the AlumierMD retinol uses cutting-edge technology to allow for a gradual timed release overnight. By encapsulating the retinol and adding soothing and hydrating ingredients like niacinamide (vitamin B3), aloe, honey and sodium hyaluronate, maximal results can be achieved in comfort. There are many retinols that can be found on the market but none which are encapsulated. Retinols can sensitise skins so it is important to use them gradually. I ask my clients to build up their application, allowing at least a 2 day interval. Eventually after a month, the retinol can be used nightly.
Retinol application needs to be controlled so one needs to stop prior to facial treatments or going in the sun – something we will continue to address during your visits to the clinic.